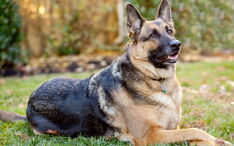 German Shepherds are medium to large-sized dogs. The breed standard height at the withers is 60–65 cm (24–26 in) for males and 55–60 cm (22–24 in) for females. The weight standard is 30–40 kilograms (66–88 lb) for males and 22–32 kilograms (49–71 lb) for females. They have a domed forehead, a long square-cut muzzle with strong jaws and a black nose. The eyes are medium-sized and brown with a lively, intelligent and self-assured look. The ears are large and stand erect, open at the front and parallel, but they often are pulled back during movement. They have a long neck, which is raised when excited and lowered when moving at a fast pace. The tail is bushy and reaches to the hock.
Roles
Gallery
Books
Community content is available under
CC-BY-SA
unless otherwise noted.