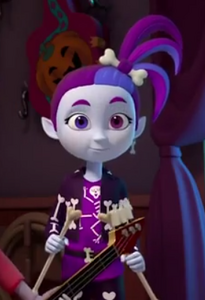 Ghastly Gayle is a supporting character in Vampirina. She is one of the members of Scream Girls. She first appeared as Ghastly Gayle (doll)
Description
Ghastly Gayle is the drummer who play the drums with bones. She is known to have odd colored yes, one blue and the other purple.
Portrayals
Ghastly Gale played by Marcie in Goldie Locks (Vampirina)
Grojband as Mina Beff
The Loud House as Ronnie Anne Santiago
Higglytown Heroes as Mail Carrier Hero
Little Einsteins as Annie
Pinky Dinky Doo as Pinky
Gravity Falls as Mabel Pines
Codename: Kids Next Door as Kuki Sanban
Dora the Explorer as Isa 
Blue's Clues as Sidetable Drawer
My Little Pony as Pinkie Pie
Total Drama Island as Izzy
Total Drama: Revenge of the Island as Dakota
Total Drama: Pahkitew Island as Samey
My Life as a Teenage Robot as Pteresa
Total Drama: The Ridonculous Race as Kitty
Wonder Pets as Linny
Total Drama Gone Wild! as Madison
Craig of the Creek as Turner
Go Away, Unicorn! as Pixie
Phineas and Ferb as Stacy Hirano
Winx Club as Musa
Strawberry Shortcake as Blueberry Muffin
Rainbow Rangers as Bonnie Blueberry
Mrs. Munger's Class as Dawn
Kuu Kuu Harajuku as Baby
Gallery
Community content is available under
CC-BY-SA
unless otherwise noted.