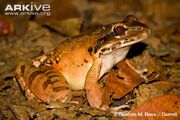 Leptodactylus fallax, commonly known as the mountain chicken or giant ditch frog, is a species of frog that is native to the Caribbean islands of Dominica and Montserrat. The population has declined 81% in the last ten years and this species is now critically endangered. In 2004 it was estimated that the population possibly was as low as 8,000 individuals.[1] One of the main threats is human consumption. The fungal disease chytridiomycosis has also had a dramatic effect on the population.[2] On Montserrat it is known as the mountain chicken, on Dominica, it is known as the crapaud.
Community content is available under
CC-BY-SA
unless otherwise noted.