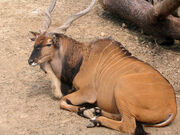 The giant eland (Taurotragus derbianus) is an herbivore, eating grasses, foliage and branches. They usually form small herds consisting of 15–25 members, both males and females. Giant elands are not territorial, and have large home ranges. They are naturally alert and wary, which makes them difficult to approach and observe. They can run at up to 70 km/h (43 mph) and use this speed as a defence against predators. Mating occurs throughout the year but peaks in the wet season. They mostly inhabit broad-leafed savannas, woodlands and glades.
Roles
Gallery
Is a Crocodile a Reptile?
Books
See Also
Community content is available under
CC-BY-SA
unless otherwise noted.