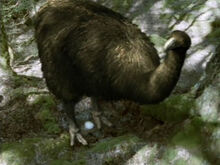 The giant moa (Dinornis) is an extinct genus of ratite birds belonging to themoa family. Like all ratites it was a member of the order Struthioniformes. The Struthioniformes are flightless birds with a sternum without a keel. They also have a distinctive palate. It was endemic to New Zealand. Two species of Dinornis are considered valid, D. novaezealandiae of the North Island, and D. robustus of the South. In addition, two further species (new lineage A and lineage B) have been suggested based on distinct DNA lineages.
Roles
See Also
Gallery
Community content is available under
CC-BY-SA
unless otherwise noted.