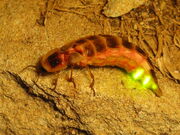 Glowworm is the common name for various groups of insect larvae and adult larviform females that glow through bioluminescence. They include members of the families Elateridae, Lampyridae, Phengodidae, and Rhagophthalmidae among beetles; as well as members of the genera Arachnocampa, Keroplatus, and Orfelia among keroplatid fungus gnats.
Gallery
Community content is available under
CC-BY-SA
unless otherwise noted.