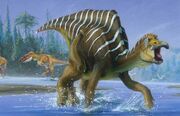 Gobihadros is a genus of basal hadrosauroid dinosaur that lived in Asia during the Late Cretaceous period. It contains one species, Gobihadros mongoliensis. The holotype specimen was recovered from the Bayan Shireh Formation (Cenomanian-Santonian). It has an estimated length of 7.5 m (25 ft).
Community content is available under
CC-BY-SA
unless otherwise noted.