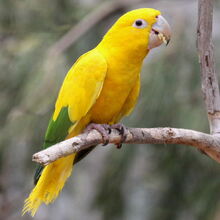 The golden conure, (Guaruba guarouba), is a medium-sized golden-yellow Neotropical parrot native to the Amazon Basin of interior northern Brazil. Its plumage is mostly bright yellow, hence its common name, but it also possesses green remiges. It lives in the drier, upland rainforests in Amazonian Brazil, and is threatened by deforestation andflooding, and also by the now-illegal trapping of wild individuals for the pet trade. It is listed on CITES appendix I.German naturalist Georg Marcgraf first described the bird, called guaruba in his expedition to Dutch Brazil in 1638.Its Portuguese and indigenous name, ararajuba, means small yellow macaw. In aviculture, it is sometimes known as the Queen of Bavaria conure.
Gallery 
Community content is available under
CC-BY-SA
unless otherwise noted.