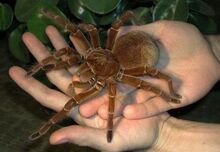 The Goliath bird-eater (Theraphosa blondi) belongs to the tarantula family Theraphosidae. Found in northern South America, it is the largest spider in the world by mass – 175 g (6.2 oz) – and body length – up to 13 cm (5.1 in) – but it is second to the giant huntsman spider by leg span. It is also called the Goliath bird-eating spider; the practice of calling theraphosids "bird-eating" derives from an early 18th-century copper engraving by Maria Sibylla Merian that shows one eating a hummingbird. Despite the spider's name, it only rarely preys on birds. The Goliath bird-eater is native to the upland rain forest regions of northern South America: Suriname, Guyana, French Guiana, northern Brazil, and southern Venezuela. Most noticeable in the Amazon rainforest, the spider is terrestrial, living in deep burrows, and is found commonly in marshy or swampy areas. It is a nocturnal species.
Roles
Gallery
Books
Community content is available under
CC-BY-SA
unless otherwise noted.