"Oh Geez"-Goofy In Mickey Mouse Clubhouse Episode,Goofy Babysitter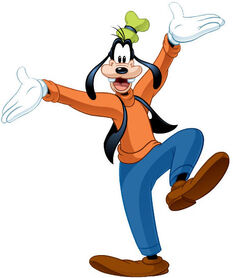 Goofy is a character dog from Mickey Mouse.
Voice Actors:
Pinto Colvig (1932–1965) - English
George Johnson (1939–1943) - English
Hal Smith (1983) - English
Will Ryan (1986–1988) - English
Tony Pope (1979–1988) - English
Bill Farmer (1987–present) - English
Yu Shimaka - Japanese
Takehiro Koyama - Japanese
Carlos Segundo - Spanish
Gérard Rinaldi (1983-2012) - French
Emmanuel Curtil (2012) - French
Vittorio Amandola - Italian
Roberto Pedicini - Italian
Krzysztof Tyniec - Polish
Pep Anton Munoz - Catalan
Ami Mandelman - Hebrew
Yoram Yosephberg - Hebrew
Bio
Allies: Mickey Mouse, Minnie Mouse, Donald Duck, Daisy Duck, Pluto, Clarabelle Cow, Horace Horsecollar, Max Goof (son)
Enemies: Pete, Mortimer Mouse
Likes: Gymnastics, skiing, sports
Dislikes: Being clumsiness
He is a chef.
He played as Pacha in The Bugs New Groove And Aladdins New Groove
He is a lost boy.
He played as Demetrius the Pot Maker in Orinocules
He is a pot maker.
He played as Little Robot Toy in Children Story 3
He is a toy robot.
He is a dwarf.
He is a Pokemon watcher.
He is Dad
He is
He is a dwarf.
He is a captain.
He played as Thaddeus 'Phlegm' Bile in Circus, Inc.
He is a monster.
He is a fat caterpillar.
He is a pigeon.
He is a book.
He played as one of the Other dogs on leash in Larry and Company
He is a dog on a leash.
He played as Friar Tuck in Orinoco Hood
He is a badger.
He is a dog.
He played as Pain in Kermicules
He is a demon.
He is a woodpecker.
He is a genie.
He is a hunchback.
He is a jester.
He is an archdeacon.
He is a dodo.
He is a rolling machine.
He played Tortoises in Canal FamilleTubbies
He is a tortoise.
He played Bender in Canal Famillerama, Goofy's Game, Goofy's Big Score, Into the Wild Green Yonder and The Beast with a Billion Backs
He is a robot.
He played Grundel in Auroralina
He is a toad.
He is a Clown
He is a Minstrel
He played Merlin in the Sword in the Stone (Uranimated18 Version)
He is a Wizard
He is a stick insect
He is a purple dinosaur
He is a blue Triceratops
Portrayals:
Gallery:
Community content is available under
CC-BY-SA
unless otherwise noted.