"Oh, the indignity!"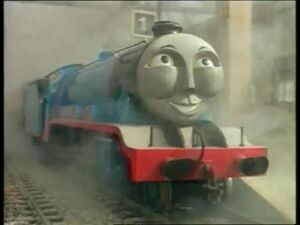 Gordon is a proud and powerful big blue tender engine in Thomas the Tank Engine and Friends.
Relationship
Home: Island of Sodor
Train Built: Steamie
Appearance:
Personality: Grumpy (sometimes), stubborn (sometimes), pompous, short-tempered, heroic, boastful, smart, caring, rude (sometimes), impatient (sometimes), selfless, caring, good leader, proud, fatherly, important, wise, kind, friendly, loving, busy, helpful, protective, big, strong, fast, good-hearting
Number: 4
Gender: Male
Affiliations: Good
Allies/Friends: Thomas, Edward, Henry, James, Percy, Toby, Duck, Donald, Douglas, Oliver, Emily, BoCo, Belle, Molly, Nia, Charlie, Philip, Hiro, Spencer (sometimes), Sam, Flying Scotsman, Rebecca, Frieda, Sir Topham Hatt
Rivals/Enemies: Vinnie, Hurricane, Frankie, Diesel 10, Diesel, Daisy, D261, Bulgy, Spencer (sometimes), Sailor John, Bulstrode, Troublesome Trucks
Counterparts
Big Mac (TUGS)
Big Stack (Salty's Lighthouse)
Germanyball or Russiaball (Pollandball)
Farnsworth or Pete (The Little Engine That Could)
Dim (A Bugs Life)
Speedy or Harrison (Chuggington)
George (Theodore Tugboat)
Grunkle Stan Pines (Gravity Falls)
Principal Seymour Skinner, Chief Clancy Wiggum or Homer Simpson (The Simpsons)
Joe Swanson or Peter Griffin (Family Guy)
Stan Smith (American Dad!)
Hamm or Buzz Lightyear (Toy Story)
Finn McMissile, Mack, Doc Hudson or Fillmore (Cars)
James P. Sullivan (Monsters Inc.)
DJ or Owen (Total Drama)
Donkey Kong (Mario/Donkey Kong)
Blastoise (Pokemon)
Knuckles (Sonic)
Beast (Beauty and the Beast)
Dr. Smolder Bravestone (Jumanji: Welcome to the Jungle)
Godzilla (Godzilla)
Aquaman, Green Lantern or Batman (Justice League)
Great Prince of the Forest or Adult Bambi (Bambi)
Mufasa or Adult Simba (The Lion King)
Rainbow Dash (My Little Pony)
Old Man Marley or Peter McCallister (Home Alone)
Optimus Prime or Grimlock (Transformers)
Sheriff Bronson Stone or Fred Jones (Scooby Doo)
Chewbacca or Mace Windu (Star Wars)
Carlisle Cullen (Twilight)
Vitaly the Tiger (Madagascar)
Wreck-it Ralph (Wreck-it Ralph)
Max Detweiler or Captain Von Trapp (The Sound of Music)
Prince Edward (Enchanted)
Captain of the Guards (Tangled)
Principal Nigel Brown or Richard Watterson (The Amazing World of Gumball)
The King (Cinderella)
King Hubert or King Stefan (Sleeping Beauty)
Luke Hobbs or Dominic Toretto (Fast & Furious)
Thor Odinson (Marvel)
Tyler Rake (Extraction)
Zeus or Hercules (Hercules)
Major Francis Monogram or Lawrence Fletcher (Phineas and Ferb)
Pongo (101 Dalmatians)
Frank Heffley (Diary of a Wimpy Kid)
Kerchak (Tarzan)
Baloo, Colonel Hathi or Mowgli's Father (The Jungle Book)
King Triton (The Little Mermaid)
Andy Barber (Defending Jacob)
Donkey Kong, Bowser or Mario (Super Mario)
Sonic (Sonic the Hedgehog)
Gordon plays

Train with Square Wheels

in

Klonoa the Red-Nosed Cat
He is a genie of the lamp and Aladdin's best buddy.
He is a british spy agent
He is a gargantuan gorilla
He is a Hedgehog
Gallery