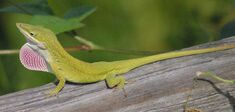 The green anole (Anolis carolinensis) is an arboreal lizard found primarily in the southeastern United States and some Caribbean islands. Other common names include the Carolina anole, American anole, and red-throated anole. It is also sometimes referred to as the American chameleon due to its ability to change color from several brown hues to bright green, however, it is not a true chameleon. The green anole is a small to medium-sized lizard, with a slender body. The head is long and pointed with ridges between the eyes and nostrils, and smaller ones on the top of the head. The toes have adhesive pads to facilitate climbing. They exhibit sexual dimorphism, the males being fifteen percent larger. The male dewlap is three times the size of the female's and bright red, whereas that of the female is lighter in color, ranging from white to pale pink. Males can extend a pronounced dorsal ridge behind the head when displaying or when under stress. Females have a prominent white stripe running along their spine, a feature most males lack. Adult males are usually 12.5–20.3 cm (4.9–8.0 in) long, with about 60-70% of which is made up of its tail, with a body length up to 7.5 cm (3.0 in) and can weigh from 3–7 g (0.11–0.25 oz).
Gallery
Is a Crocodile a Reptile?
Books
Community content is available under
CC-BY-SA
unless otherwise noted.