Greendale Rocket is a 4-4-0 tank engine, who is driven by Ajay Bains. She is the engine, who often pulls passenger carriages and sometimes a mail truck for Pat, since her train consists herself, her coach, and red mail car.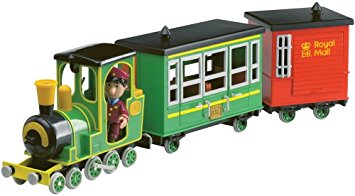 Relationship
Train Bult: Steam Engine
Appearance: Postman Pat (1981-Present)
Gender: Female
Agliment: Good
Allies: Casey Jr. (brother), Toots (best friend), Tillie (girlfriend), Tootle, Montana (father), Emma, Pufle, Ivor, Jebediah, Georgia, Pete, Farnsworth, Alfred, Melissa, Tom Jerry, Blue, Johnny (good friend), Doc, Huey, Silver Fish, Rasmus, Jason, Sir Reginald, Katy Caboose, Alan (steam engine), Piper, Tracy, Rusty, Humphrey, Rodrick, Minerva, Shelbert, Mary, Streamer, Calley, Bonnie, Sasha, Wartime, Sir Norramby
Enemies: Cerberus
Community content is available under
CC-BY-SA
unless otherwise noted.