Dr. William "Willie" MacDougal III, also known as G.K. Willington Esquire, and William MacMoran is the groundskeeper and janitor of Springfield Elementary School. Willie's job is to supervise the children of the School during recess, and clean the halls. He is recognizable with his red hair and thick Scottish accent. He is often either a formidable enemy or an invaluable ally to Bart and Lisa Simpson; mostly, he has a strained relationship with Principal Seymour Skinner. Willie was originally from Kirkwall, in Scotland.
Dan Castellaneta - English
Kosuke Meguro - Japanese
Alejandro Villeli 1-15 Sebastian Lipaur 16-25 Gerardo Vasquez 19-21 Raymundo Armijo 25- - Spanish
Werner Abrolat 2 Michael Habeck 3 Peter Thom 9 Thomas Raucher 10- - German
Hamilton Ricardo Marco Ribeiro Guilherme Briggs Orlando Drummond Luiz Carlos Persy Ettore Zuim - Portuguese
Roland Timsit 2-4 Michel Modo 4-5 Gilbert Levy 5- Daniel Lafourcade 9 - French
Julien Bessette
Pierre Auger
- Quebec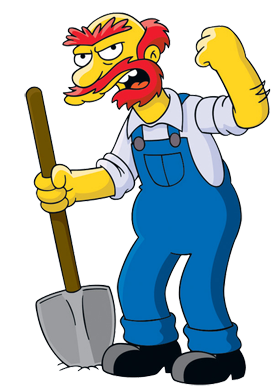 Gallery
Community content is available under
CC-BY-SA
unless otherwise noted.