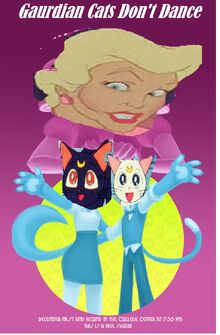 398Movies' movie-spoof of Cats Don't Dance (1997). It will appear on YouTube in the near future to celebrate the 20th Anniversary.
Cast:
Danny - Artemis (Sailor Moon)
Sawyer - Luna (Sailor Moon)
Pudge - Tweety Bird (Looney Tunes)
Wooly the Mammoth - Winnie the Pooh
Tillie the Hippo - Georgette (Oliver and Company)
Cranston Goat - Scooby Doo
Frances Albacore - Ladyfish (The Incredible Mr. Limpet)
T.W. Turtle - Nick Wilde (Zootopia)
Darla Dimple - Claudia Vorstein (The Chipmunk Adventure)
Max - Professor Nimnul (Chip 'n Dale Rescue Rangers)
LB Mammoth - Wreck-It Ralph
Flannigan - Fix-It Felix Jr. (Wreck-It Ralph)
Farley Wink - Ash Ketchum (Pokemon)
Bus Driver - Gru (Despicable Me)
Quotes:
Wreck-It Ralph: You animals will never--
Fix-It Felix Jr.: --nibble kibble in this town again.
Georgette: I think they liked it!
Artemis: Stop the bus!
Gru: Geez! What do you wanna stop for? We just barely got started.
Artemis: Exactly. See ya in the movies.
Trivia:
Sailor Moon ended in 1997 (until 2014), the same year Pokemon was released on TV in Japan, Space Jam and Pooh's Grand Adventure: The Search for Christopher Robin were released on home video, and Cats Don't Dance was released in theaters.
Like TheBluesRockz's upcoming spoof, Bears Don't Dance, this is an NTSC spoof.
Gallery:
Community content is available under
CC-BY-SA
unless otherwise noted.