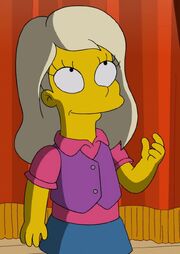 Harper is the daughter of Mike Jambowski: a Multi-Gazillionre and the crush of Kevin Gold
Appearance
Harper has beautiful blonde hair.
Episodes
"Friends Without Benefits
After Friends Without Benefits
When Homer and Lisa left Jambowski Island, Harper thought about what Homer said and felt awful for a while until she found a note in a locker that said "Dear Harper, I am not ready to confess my love for you, but I will in the future, love your secret Boyfriend" that note changed Harper's Life forever.
Favourite Things
TV Show:Krusty
Food: Cotton Candy
Animal: Crocodile
Community content is available under
CC-BY-SA
unless otherwise noted.