NOTE: This character, and the movie he's in, are made up.
Hector Dermont is the main antagonist/turned protagonist in the Fireman Sam Theatrical Universe. He is voiced by Jimmy Hibbert.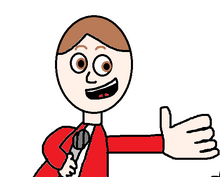 Personality
Despite him being the main antagonist, Hector Dermont is a nice television reporter from Newtown. He loves his fans and does not despise Fireman Sam. Although, his only negative personality is sarcasm. 
Counterparts
Wilf (Postman Pat: The Movie, both wear similar clothing and are sarcastic)
Anger (Inside Out, both are red and sarcastic)
Bloo (Foster's Home for Imaginary Friends, both are sarcastic)
Buck Douglas (Fireman Sam: Alien Alert, both are television personalities and share the same behaviors)
Twinkie (Sausage Party, both are cheerful and they smile a lot)
Cartman, Stan, Kyle, and Kenny (South Park, all five of them are sarcastic. Although, Cartman and Hector both wear red and are more sarcastic that the other three boys)
Community content is available under
CC-BY-SA
unless otherwise noted.