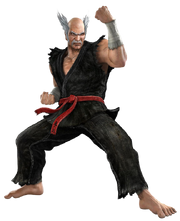 Heihachi Mishima
 (三島 平八 
Mishima Heihachi
) is one of the main characters in the 
Tekken
 series and he debuted in the first game in the series and has returned for all subsequent titles. Though seen as an anti-villain of the second 
Tekken
 game, he is one of the main antagonists of the series as he is almost always responsible for the events, though his impact on the story has seemed to decrease since 
Tekken 5
 as he has became a minor character to the storyline. But in 
Tekken 7
, Heihachi is part of the main storyline once again and is also the villain protagonist of the game. It was confirmed that he was not the one who started the Mishima feud in the first place, as it was his wife, Kazumi Mishima who started it all. Heihachi is the son of Jinpachi Mishima, the ex-husband of Kazumi Mishima, the father of Kazuya Mishima and Lars Alexandersson, the adoptive father of Lee Chaolan, and the grandfather of Jin Kazama.
Gallery
Community content is available under
CC-BY-SA
unless otherwise noted.