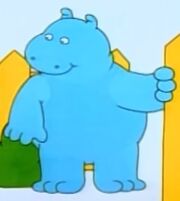 Helen 
is one of Spot's friends in Miss Bear's class. She is a blue hippopotamus and her color is dark blue and she has sags under her eyes in the first season of the TV series 
The Adventures of Spot
; however, beginning with later episodes of season one, she turned light blue and loses the sags under her eyes, leaving her looking younger and less intimidating (similar to Tom).
Spot's Band
In the episode, Spot, Sam, Helen, Steve and Tom are watching a band play. Helen's mom is on stage playing the tuba. When the performance is over, Spot invites his friends over to his house and decides to form his own band. He borrows Sally's pot lids and Helen uses them like cymbals.
Gallery
Community content is available under
CC-BY-SA
unless otherwise noted.