Henry is a green mixed-traffic tender engine and the wise, friendly and big green engine in Thomas the Tank Engine and Friends.  He was originally a failed prototype engine, and needed special Welsh coal to operate properly. Following his accident when pulling The Flying Kipper, Henry underwent an extensive rebuild, giving him a new shape.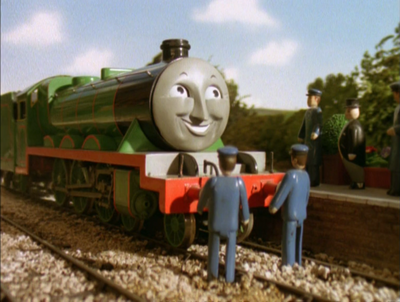 In Prince Eric & Friends (Thomas & Friends) he is played by John Smith
He is a ghost
He is a Circus Engine
He is a fox
He is a Human
Henry plays John Smith in

Emilyhontas
Relationship
Allies: Thomas the Tank Engine (nephew), Edward the

Blue

Engine (older brother), Gordon the Big Engine (older brother), James the

Red

Engine (nephew), Percy the Small Engine (son), Toby the Tram Engine, Duck the Great Western Engine, Donald and Douglas the Scottish Twin Engines, Oliver the Great Western Engine, Emily the Beautiful Engine (niece), Murdoch the Strong Engine (cousin), Arthur the LMS Tank Engine, Spencer the

Silver

Engine (sometimes), Mavis the Quarry Diesel, BoCo the Metropolitan Vickers Diesel, Bill and Ben the Saddle Tank Engine Twins (good friends and pals), Fergus the Railway Traction Engine, Annie and Clarabel, Old Slow Coach, Stanley, Stepney (grandson), Bertie, Terence, Butch, Trevor the Traction Engine, Caroline, Harold, Skarloey, Rheneas, Sir Handel, Peter Sam, Rusty, Duncan, Duke, Freddie, Mighty Mac, Luke, Bertram, Ivo Hugh, Molly the

Yellow

Engine (wonderful friend), Rosie, Lady (beautiful magical friend), Belle (beautiful friend), Millie, Stephen, Bash, Dash, and Ferdinand the Logging Locos, Hiro (father), Flynn, Connor, Caitlin, Stafford, Winston the

Red

Car, Victor, Kevin the Crane, Dennis, Charlie the

Purple

Engine, Billy, Salty, Porter, Harvey, Elizabeth (sometimes), Cranky (sometimes), Jack, Alfie, Oliver the Excavator, Kelly, Ned, Buster the Steam Roller, Nelson, Paxton, Neville, Captain, Owen, Merrick, Hank, Flora, Pip and Emma, Jinty and Pug, 

Green

Arrow, Iron Duke, Wilbert, City of Truro, 
Enemies: Devious Diesel, Arry and Bert, Daisy, Diesel 10, Splatter and Dodge, Spencer (sometimes), Elizabeth (sometimes), Cranky (sometimes), Bulgy, George, Max and Monty, Den and Dart (formerly), Norman (formerly), Paxton (only in Day of the Diesels), Sidney (formerly), D261, The Horrid Lorries, Special Carriage Ruffey, Troublesome Trucks.
Counterparts
Warrior or Big Mac (TUGS)
Digby or Inverness (Theodore Tugboat)
Pete or Farnsworth (The Little Engine That Could)
USAball (Pollandball)
Rex (Toy Story)
Filmore, Ramone, Mack or Sarge (Cars)
Puzzle (Jigsaw)
Mort Goldman, Brian Griffin, Peter Griffin or Joe Swanson (Family Guy)
Qui-Gon Jinn (Star Wars)
Gus Polinski or Frank McCallister (Home Alone)
Lawrence Fletcher or Carl Karl (Phineas and Ferb)
Barney Gumble or Homer Simpson (The Simpsons)
Max Detweiler (The Sound Of Music)
Green Lantern (DC and The LEGO Movie; both are green)
Hulk (Marvel)
Victor, Quasimodo or Hugo (The Hunchback of Notre Dame)
King Stefan (Sleeping Beauty (1959))
Cogsworth (Beauty and the Beast)
Pumbaa, Uncle Max or Zazu (The Lion King)
Richard "Dick" Reynolds (American Dad)
Bagheera (The Jungle Book)
Adult Tantor (Tarzan; both are strong and clumsy)
The Colonel (101 Dalmatians)
Doc (Snow White and the Seven Dwarfs)
Adult Flounder (The Little Mermaid)
Artie (Enchanted)
Soos Ramirez (Gravity Falls; both are fat)
Dale Dinkley (Scooby Doo)
Shrek (Shrek; both are fat, clumsy and wear green)
Richard Watterson (The Amazing World of Gumball)
Friar Tuck (Robin Hood)
Tommy Ryan (Titanic)
Mr. Baldwin (Fish Hooks)
Mikey Blumberg (Recess)
George Sanderson (Monsters, Inc.)
Melman or Zuba (Madagascar)
Ross Geller or Chandler Bing (Friends)
Joe Rockhead (The Flintstones)
Hound (Transformers; Both are fat, clumsy and have names start with "H")
Link (The Legend of Zelda; Both are main heroes and wearing green)
Gallery
Main Article: Henry the Green Engine/Gallery
Poses