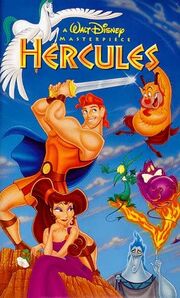 Hercules is a 1998 VHS.
Chapters:
Program Start
"The Gospel Truth"
Festivities on Mt. Olympus
Hades
The Fates Reveal the Future to Hades
Hercules Is Kidnapped
Jerk-ules
"Go the Distance"
Hercules Sets Out for the Temple of Zeus
The Search for Philoctetes
"Call Me Phil"
"One Last Hope"
A Damsel in Distress
Megara
The Big Olive - Thebes
The Battle With the Hydra
"Zero to Hero"
Hades' Plan on the Verge of Disaster
Progress Report to Zeus
At the Villa
The End of a Great Day
"I Won't Say (I'm in Love)"
Herc's Weakness
Hades' Dirty Deal
Hades Releases the Titans
Inspiration from Phil
Hercules Heads for Mt. Olympus
The Fates Cut the Thread
Hercules Makes a Deal With Hades
Reunion on Mt. Olympus
"A Star Is Born"
End Credits
Previews:
Green FBI Warnings
Walt Disney Home Video 1992 bumper
Coming Soon to Theaters bumper
A Bug's Life trailer
Disneyland Paris 1998 trailer
Now Available to Own on Videocassette bumper
Mr. Magoo trailer
Coming Soon to Videocassette bumper
Kiki's Delivery Service trailer
The Lion King 2: Simba's Pride trailer
Collect Mickey's Ears commercial (Valid until February 15, 1999)
Feature Presentation bumper
Walt Disney Masterpiece Collection bumper
THX bumper
Walt Disney Pictures logo
Printdate:
August 8, 1998.
Community content is available under
CC-BY-SA
unless otherwise noted.