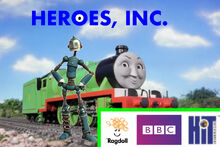 Heroes Inc. (Gavin Nyenhuis) is a 2001 American computer-animated comedy film produced by Ragdoll Productions and Hit Entertainment and distributed by 20th Century Fox and WNET New York. Featuring the voices of Michael Brandon, Ewan McGregor, Alex Karzis, Ian McKellen, and Halle Berry, the film was directed by Pete Docter in his directorial debut, and executive produced by Andrew Davenport and Anne Wood. The film centers on two heroes – Henry the Green Engine and his robotic partner and best friend Rodney Copperbottom – employed at the titular energy-producing factory Mall of America, which generates power by scaring human children. The super hero world believes that children are toxic, and when a small child enters the factory, Henry and Rodney must return her home before it is too late.
Cast
Henry (Thomas & Friends) as James P. Sullivan ("Sulley")
Rodney (Robots) as Mike Wazowski
Cappy (Robots) as Celia Mae
Inez (Cyberchase) as Boo
Becky (WordGirl) as Boo in Monster Disguise
Ledge (Cyberchase) as Randall Boggs
The Toad (Flushed Away) as Mr. Waternoose
Slider (Cyberchase) as Fungus
Soothsayer (Kung Fu Panda 2) as Roz
Fred (Will and Dewitt) as Needleman
Will (Will and Dewitt) as Smitty
Hamm (Toy Story) as Yeti The Abominable Snowman = John Ratzenberger
Tinky Winky (Teletubbies) as Sushi Chef
Shock (The Electric Company (2009)) as Thaddeus "Phlegm" Bile
Jessica (The Electric Company (2009)) as Mrs. Flint
Thomas, James and Percy as Dave, Chris, and Howard
Jeff (The Wiggles) as Ted Pauley
Pig (WordWorld) as George Sanderson
Frog and Bear (WordWorld) as Wife and Husband Monsters
Dewitt (Will and Dewitt) as Charlie
Fender (Robots) as Jerry
Heimlich (A Bug's Life) as "Claws" Pete Ward = Joe Ranft
The ZOOM Characters as The CDA
Arlo (The Good Dinosaur) as Rex in the Outtakes
See Also
Promotional Galleries
Scene Galleries
Community content is available under
CC-BY-SA
unless otherwise noted.