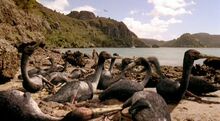 Hesperornis (meaning "western bird") is a genus of flightless aquatic birds that spanned the first half of the Campanian age of the Late Cretaceous period (83.5–78 mya). Considered one of the lesser-known discoveries of the paleontologist O. C. Marsh in the late 19th century Bone Wars, it was an early find in the history of avian paleontology. Locations for Hesperornis fossils include the Late Cretaceous marine limestones from Kansas and the marine shales from Canada. Nine species are recognised, eight of which have been recovered from rocks in North America and one from Russia.
Roles
It played Bananostrich in Cloudy With a Chance of Meatballs 2 (NatureRules1 Style)
Gallery
See Also
Sea Monster: Prehistoric Predators of the Deep
Community content is available under
CC-BY-SA
unless otherwise noted.