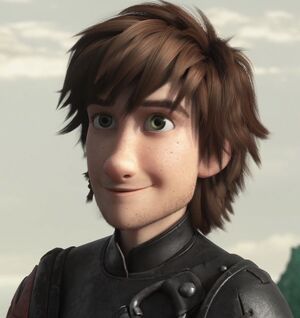 Hiccup Horrendous Haddock III is the main protagonist from How to Train Your Dragon. He is the son of Valka and the late Hooligan chief, Stoick the Vast, thus making him the heir, and later, the current chief of the tribe. He is 15 years old in the first film, Dragons: Riders of Berk and Dragons: Defenders of Berk, 18 to 19 years old in Dragons: Race to the Edge, 20 years old in How to Train Your Dragon 2, 21 years old in How to Train Your Dragon: The Hidden World, and 30 in the epilogue. His dragon and best friend, Toothless, is a Night Fury, the rarest and most intelligent dragon species.
He is a superhero
Hiccup plays Joseph in Hiccup King Of Dreams (PrinceBalto Style)
He Is A Egyptain 
Hiccup plays Tulio in The Road To Egypt (The Road To El Dorado The Mizfitz Style)
He is a The Mighty Powerful Gods
He is a Jedi
Hiccup plays Firewater in Animated Party (Sausage Party)
He is a "Native American" bottle of liquor who knows the most about the truth about the Great Beyond.
Hiccup plays Han Solo in

Star Wars (Strongdrew941 Style)
He is a smuggler
He is a Jedi
He is a street rat
He is a prince
He is a sabertooth
He is a prince
He is a broadway actor
Hiccup plays Wart in The Sword in the Stone (Brermeerkat Style)
He is a knight
He is an assistant pig keeper
Hiccup plays Jack Frost in Rise of the Guardians (Brermeerkat Style)
He is a guardian
He is a prince
He is a hobbit
Hiccup plays Osmosis Jones in Hiccup Jones
He is a cop
Hiccup plays the Grinch in

How the Viking Stole Christmas
He is a green guy
Hiccup plays Jason Johnston in

Hiccup and Jack Frost
He is a 23-year-old boy
He is a lion
He is a broadway actor
He is a tow truck
Hiccup plays Hercules in Hiccupcules
He is a wonder boy
He is a wolf
He is a fire Nation-born Avatar
he is a Candle
Hiccup Plays Hawkeye Francis Barton Next Guardains Heroes Of Tomorrow
Portayal
In How To Train Your Wild Animal- Played by Balto
In How To Train Your Jungle Animal Played by Wart/Arthur
In How To Train Your Forest Animal Played by Humphrey
In How To Train Your Dragon (Jacob Samra Version) Played by Jacob Samra
In How To Train Your Legendary Pokemon Played by Rintoo
Age
14 (1st film)
15 the three specials, the tv series)
18 (dtdr) and (rtte)
20 (2nd film)
Gallery