TheLastDisneyToon's Movie Spoof Of High School Musical 2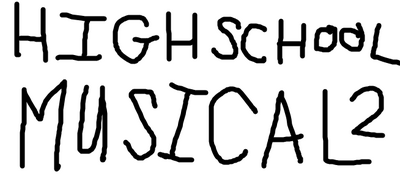 Cast:
Troy Bolton - Branch (Trolls)
Gabriella Montez - Princess Poppy (Trolls)
Sharpay Evans - Judy Hopps (Zootopia)
Ryan Evans - Nick Wilde (Zootopia)
Chad Danforth - Barry B. Benson (Bee Movie)
Taylor McKessie - Olivia Flaversham (The Great Mouse Detective)
Thomas Fulton - ???
Jack Bolton - Shrek
Vance Evans - Stu Hopps (Zootopia)
Darby Evans - Bonnie Hopps (Zootopia)
Ms. Darbus - DJ Suki (Trolls)
Kelsi Nielsen - Viper (Kung Fu Panda)
Zeke Boylor - Blu (Rio)
Jason Cross - Flik (A Bug's Life)
Martha Cox - Princess Atta (A Bug's Life)
Lucille Bolton - Princess Fiona (Shrek)
The Sharpettes - ???, ??? and ???
Songs:
What Time Is It? - TheLastDisneyToon Cast
Fabulous - Judy Hopps feat. Nick Wilde
Work This Out - TheLastDisneyToon Cast
You Are the Music in Me - Branch and Princess Poppy feat. Viper
Humuhumunukunukuapua'a - Judy Hopps and Nick Wilde
I Don't Dance - Nick Wilde and Barry B. Benson
You Are the Music in Me (Judy Version) - Judy Hopps and Branch
Gotta Go My Own Way - Princess Poppy feat. Branch
Bet On It - Branch
Everyday - Branch and Princess Poppy
All for One - TheLastDisneyToon Cast
Scenes:
Movie Used:
High School Musical 2 (2007)
Clips from Movies/TV Shows Featured:
Trolls (2016)
Zootopia (2016)
Bee Movie (2007)
The Great Mouse Detective (1986)
Shrek (2001)
Shrek 2 (2004)
Shrek the Third (2007)
Shrek Forever After (2010)
Kung Fu Panda (2008)
Rio (2011)
Rio 2 (2014)
A Bug's Life (1997)
Gallery
Trivia
(Programmes)
Fraps
Adobe Premiere Elements 9
After Effects CS4
Adobe Photoshop
LSMaker
WavePad
Bandicam
Trainz 2004
Trainz 2006
Trainz 2009
Trainz 2010
Trainz 2012
Microsoft Train Simulator
Speakonia
Cepstral
Loquendo TTS 6.5.5
Loquendo TTS 7 Director
TextAloud
GIMP 2.8
Sony Vegas Pro 11
TGATool2
CrazyTalk
Lightwave 3D
Blender
Unity
Stop Motion Animator
Vision Lab Studio
Traction 2
Premiere Pro
MMD
Camstasia
Adobe Premiere Pro
Gimp
Chameleon
Artoonix
GameMaker
Trainz Paint Shed
MSTS Paint Shed
Windows Live Movie Maker
Windows Movie Maker
Sketchup
and more
Community content is available under
CC-BY-SA
unless otherwise noted.