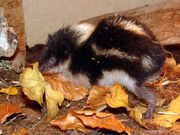 The highland streaked tenrec (Hemicentetes nigriceps) is an insectivore which lives in the central upland regions of Madagascar. Its black and white striped body is covered with quills, which it will raise when agitated. The spines detach and remain in the body of an inquisitive predator. The highland streaked tenrec uses its long snout to burrow under leaves and bark, searching for earthworms, its primary food.
Community content is available under
CC-BY-SA
unless otherwise noted.