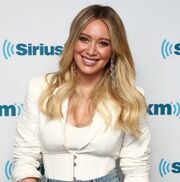 Hilary Erhard Duff (Houston (Texas), september 28, 1987) is an American pop singer and actress. They broke through in 2002 and is especially popular with the youth.Duff also designs clothes that "Stuff by Hilary Duff" is called. In the fall of 2006, she released a perfume on the market under the name "With Love ...Hilary Duff".
Biography
Duff was born in Houston, Texas as a second child of Robert Erhard Duff, owner of a chain of night shops and Susan Colleen, housewife. During her youth she took singing lessons, because this would help her against her speech impediment.
In 2006/2007, Duff's parents separated, after her father, Robert Duff, got a new girlfriend.
Relationships
Duff had a relationship for a year and a half from 2002 with Aaron Carter whom she met on the set of Lizzie McGuire where Carter had a cameo role in the Christmas episode. It was reported that he had left Duff for actress [Lindsay Lohan]], Carter also said that he had gone strange with her best friend and that her heart was broken, he had regretted his actions. [1]
Duff began dating Joel Madden in 2004. Susan, the mother of Duff, made in June 2005 their relationship known in an interview after a long period of speculation. In november 2006 the couple from each other is gone. [2]
Since 2007, Duff along with the ice hockey player Mike Comrie, who has asked her to marry him in February 2010. [3] they are married on August 14, 2010 in Santa Barbara. Duff and Comrie in 2012 were the parents of a son. In January 2014, it was announced that Duff after one and a half years marriage counseling is separate from Comrie.
Stalker
At the end of 2006, undertook legal action against an alleged stalker Duff and his roommate. The stalker, Maksim Miakovsky was on 3 november, arrested for threatening to kill her that weekend. He came to the United States "only with the purpose to meet her and start a relationship with her". He was brought to trial on 7 november and was sentenced to 117 days in prison on 19 January 2007 and a trial period of five years. [4]
Career
After her mother had encouraged her to join her older sister, Haylie Duff, acting classes to follow, both won several roles in several local theatre productions. After a few years to have done auditions, the sisters asked for television commercials. Duff made her acting debut on television at the age of 10 when she had a roll of extras in the TV movie True Women .
In 2001 , she was from Belgium and Netherlands known for her title role in the teen series 'Lizzie McGuire'. There was also a television film series created, which is called The Lizzie McGuire Movie . With her performances and acting performances earned them so much money, that they are for her parents bought a house in Los Angeles , where she went to live with her family. Then she lived with her sister Haylie in Los Angeles. She now lives with her husband.
She has also written a book called "Elixir", a fiction book, which was released in America on October 12, 2010. On February 9, 2011 came Hilary Duff to the waasland Shopping Center in Sint-Niklaas to sign her book. After the great success of Elixir, came his successor, entitled Devoted, released in October 2011. The third and latest novel, TRUE, was released in april 2013.
Music
In 2003 she released her album ' Metamorphosis ' and in 2004 her second album ' Hilary Duff '. In 2005 she released the compilation album Most Wanted , and in 2007 the dance-like album Dignity of which were personally written all the songs.
After a Most Wanted Tour started in 2005-2006, Duff in August 2007 the Dignity Tour 2007.
Filmography
Discography
Albums
Album (s) with any charts in the

the Dutch Album Top 100

Date of

appear

Date of

entry

Highest

position

Number Of

weeks

Comments
Santa Claus Lane
15-10-2002
-
-
-
Metamorphosis
26-08-2003
06-12-2003
23
29
Hilary Duff
28-09-2004
16-10-2004
19
9
Most Wanted
16-08-2005
19-11-2005
51
8
4ever
12-05-2006
-
-
-
released in Italy
Dignity
03-04-2007
-
-
-
Best of Hilary Duff
11-11-2008
-
-
-
Singles
Hilary Erhard Duff is an American actress, singer, songwriter, entrepreneur, author, and humanitarian. She is the younger sister of Haylie Duff.
Hilary is best known for her role as Lizzie McGuire. She played Lizzie in the Disney Channel television series with the same nameand The Lizzie McGuire Movie. She also played Isabella Parigi.
In 2002, Hilary played Kelly Collins in the Disney Channel Original Movie Cadet Kelly.
Hilary's new album Breathe In. Breathe Out. was released on June 16, 2015. People can currently see her as Kelsey Peters in the TV series Younger.
Hilary Duff stars as Kelsey Peters on the critically-acclaimed and buzzy TV Land series Younger. Kelsey Peters is a strong and ambitious young book editor who takes Liza under her wing at Empirical Press, where they grow to become best friends. But at the end of last season, Liza confessed to Kelsey the truth – that she's 40, and not 26, as she claimed. And now Kelsey must figure out if she can forgive her best friend and continue to run their imprint – Millennial – together.
Biography Edit
Ever since Hilary Duff first emerged on the public's radar as the star of Disney's enormously successful TV show "Lizzie McGuire," the Houston native has distinguished herself as a highly relatable performer with a strong connection to her fans — thanks not only to the funny, pretty and smart character she played onscreen, but also because of Duff's own natural warmth and girl-next-door charisma. Her popularity has led to a thriving career as both an actress and a singer-songwriter. On the screen, Duff starred in numerous feature films including "The Lizzie McGuire Movie," "Agent Cody Banks," "A Cinderella Story," "Cheaper by the Dozen" and more serious roles, co-starring in John Cusack's critically-acclaimed 2008 film "War, Inc." and "According to Greta," in which Hilary played the title character and co-starred with Oscar® winner Ellyn Burstyn.
Duff also has a global prolific and successful singing career, entering the Top-40 music charts with the singles "So Yesterday" and "Come Clean." Her three studio albums, 2003's multi-platinum blockbuster Metamorphosis, 2004's self-titled platinum-seller, and 2007's autobiographical dance-pop collection Dignity, have sold a collective 15 million copies worldwide. Her most recent album, 2015's Breathe In. Breathe Out. is a stellar collection of catchy, electro-tinged pop gems, many of which she co-wrote with groundbreaking songwriters and producers such as Sean Douglas (Jason Derulo, Demi Lovato), Tove Lo (Ellie Goulding, Icona Pop), Matthew Koma (Zedd, Alesso, One Republic), Bloodshy (Madonna, Britney Spears, Kylie Minogue) and Ed Sheeran – one of Duff's favorite artists – who wrote and vocal produced "Tattoo." The album was released in June 2015 on RCA Records and rocketed to #1 on iTunes in the hours upon its release. Additionally, the album debuted at #3 on the Billboard Overall Album Chart and #5 on the Billboard Top 200, marking Hilary's fifth straight top five debut.  
Among her many accolades, Duff was nominated for both 2016 and 2017 People's Choice Awards for Favourite Cable TV Actress for her role as Kelsey in "Younger." Duff was also honoured with two separate Teen Choice Awards and was also named by Teen People as one of the magazine's "25 Hottest Stars Under 25." Hilary is passionate about several charitable causes, especially those involving children and animals. Her charity work includes the founding of Blessings in a Back Pack which helps inner city schoolchildren get the nutrition they need. She's also involved with Make-A-Wish Foundation.
Gallery
Community content is available under
CC-BY-SA
unless otherwise noted.