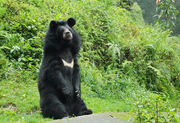 The Himalayan black bear (Ursus thibetanus laniger) is a subspecies of the Asian black bear found in the Himalayas of India, Tibet, Nepal, China and Pakistan. It is distinguished from U. t. thibetanus by its longer, thicker fur and smaller, whiter chest mark.
Roles
Gallery
Books
Also See
Community content is available under
CC-BY-SA
unless otherwise noted.