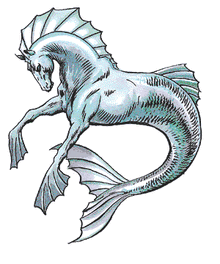 The hippocampus or hippocamp, also hippokampoi, often called a sea-horse in English, is a mythological creature shared by Phoenician and Greek mythology, though the name by which it is recognised is purely Greek. In the Iliad, Homer describes Poseidon, who was god of horses (Poseidon Hippios), earthquakes, and the sea, drawn by "brazen-hoofed" horses over the sea's surface, and Apollonius of Rhodes, being consciously archaic in Argonautica, describes the horse of Poseidon emerging from the sea and galloping away across the Libyan sands. This compares to the specifically "two-hoofed" hippocampi of Gaius Valerius Flaccus in his Argonautica: "Orion when grasping his father's reins heaves the sea with the snorting of his two-hooved horses." In Hellenistic and Roman imagery, however, Poseidon (or Roman Neptune) often drives a sea-chariot drawn by hippocampi. Thus hippocampi sport with this god in both ancient depictions and much more modern ones, such as in the waters of the 18th-century Trevi Fountain in Rome surveyed by Neptune from his niche above.
Roles
Gallery
See Also
Community content is available under
CC-BY-SA
unless otherwise noted.