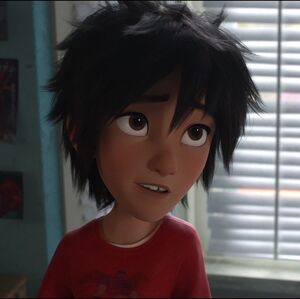 Hiro Hamada is the protagonist of Disney's 2014 animated feature film, Big Hero 6. He is the founder and leader of Big Hero 6, a team of young superheroes whose goal is to protect the city of San Fransokyo.
Movies
Peter Benjamin Parker is a young photographer for the Daily Bugle who was bitten by a genetically-modified spider during a high school excursion, which granted him superhuman abilities and spider-like attributes. Hence, he became the costumed superhero known as Spider-Man.
Originally portrayed by Tobey Maguire.
Suits he wear as Spider-Man:
Hiro Hamada played Luke Skywalker in Star Wars (JediLuke9 style)
He is a Jedi
Hiro Hamada played Thomas the Tank Engine in Hiro Hamada (Thomas & Friends)
Hiro Hamada played Elliott in

Baymax The Extra-Terrestrial
Hiro Hamada played Peter Pan in Hiro Pan 1 and Hiro Pan 2: Return to Neverland and The Japanese King 1 1/2 (Dragon Rockz Style)
Hiro Hamada played Toby Turtle in Jiminy Hood
Hiro Hamada played Young Simba in The Hamada King
He is a lion
Hiro Hamada played Thomas in Honeyhontas
Hiro Hamada played Miguel in The Road To Atlantis (J.B Eagle Style)
Hiro Hamada played Fritz in

The Reindeer Prince (1990)
He is a Boy
He is a one-eyed green monster
Hiro Hamada played Jimmy Neutron in Hiro Hamada: Boy Genius
Hiro Hamada played Oscar in Animated Tale
He's a Night Guard
Hiro Hamada will play Hiccup in an upcoming How to Train Your Dragon parody
Hiro Hamada will play Flynn Rider in an upcoming Tangled parody
Hiro Hamada will play Nick Wilde in an upcoming Zootopia parody
Hiro Hamada will play Frodo Baggins from the Lord of the Rings Trilogy (Systariansrule2024 Human Style)
He is a Hobbit
Hiro Hamada will play Leo San Juan in an upcoming Legend Quest parody
Hiro Hamada will play Marco Diaz in an upcoming Star vs. the Forces of Evil parody
Hiro Hamada will play Flash Sentry in an upcoming My Little Pony: Equestria Girls parody
Hiro Hamada will play Adrien Agreste/Cat Noir in an upcoming Miraculous Ladybug parody
Hiro Hamada will played Peter Griffin in

Family Guy (Smart Cartoon)
He is a Fat Guy
She is a Boy
She is a Boy
He plays Mowgli in

The Ice Age Book (2016)
He is an Teen Egyptian Prince and later a Hebrew leader
Hiro Hamada played Snow White in Hiro White
He is a Video Game Nerd
He is a Penguin Chick
He is a Blue Macaw
He is a Dalmatian Puppy
Hiro Hamada played Prince Phillip in Sleeping Gogo
Video Games
Voice Actors:
Ryan Potter - Teen (English)

Logan Lerman

- Young Adult (English)
Tobey Maguire - Adult (English)

Patrick Stump

- Singing (English)
Memo Aponte - (Latin American Spanish)

Yutaro Honjo

(Japanese)
Relatives:
Portrayals:
Gallery: