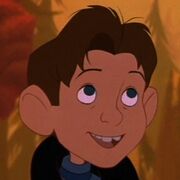 Hogarth Hughes is a main character from The Iron Giant.
Hogarth plays Kocoum in Robynhontas
Hogarth plays Thomas McCallister in Derek and Anario
Hogarth plays Michael Darling in his 4-year-old form in Kimiko Pan
Hogarth plays one of Karen's Friends in Top Cat (a.k.a., Frosty the Snowman
Hogarth plays John Smith in Inezhontas and Inezhontas II: Journey to a New World
He is a knight.
Hogarth plays John Darling in Mushu Pan
He is a young street rat.
Hogarth plays SpongeBob SquarePants in The Iron Patrick
Gallery:
Community content is available under
CC-BY-SA
unless otherwise noted.