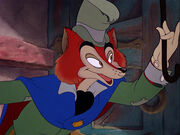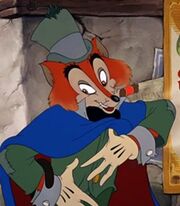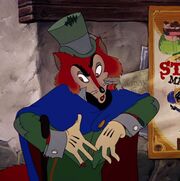 John Worthington "Honest John" Foulfellow is a fox from Pinocchio.
He and Gideon played Fidget in SpongeDumbo in Flying Speed Games and

The Great Flying Elephant Detective
They are bats with peg leg
He is a wolf
He is a dwarf
He is a lion
He is a mirror
He is a rabbit
He is a hatter
He is a dog
He is a dwarf
He is a sorcerer
He is a soldier
He is a dwarf
He is a walrus
He is a huntsman
He is an eel
He is a hyena
He is a sorcerer
He is a judge
He is a warrior
He is a snow wizard
He is a hyena
He is a hatter
He is a sewer rat
He is a pirate
He is a baboon
He is a sea king
He is a vulture
Honest John is an alcoholic. He is constantly seen drinking from a beer mug and becomes disappointed whenever he runs out. During Scar's song, when Scar dumps a bottle of champagne into his water fountain, John gets very excited and immediately runs over to the fountain, where he starts drinking from it. Then Scar kicks him and Honest John falls and starts swimming around in it. When Scar talks about his history with Mufasa, Honest John starts crying about the part that Scar never had a moment's peace in mind.
Later, when they are finishing up a verse of the song, he drunkenly says, "To Scar, the world's greatest lion!", which makes Scar very mad (as he despises being called a lion). He throws him outside the hideout and summons Dragon Maleficent with a bell. However, John is too drunk to notice her, and she easily catches and eats him. Honest John starts drunkenly singing the praises to Scar, and is swallowed whole just as he is about to call his vengeful boss a lion again. After a short period of mourning from the other henchmen,Scar suggests that they finish the song before he has Dragon Maleficent eat the rest of them, which they do out of fright.
Portrayals
Gallery: