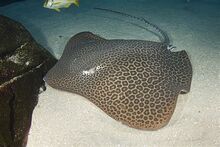 The honeycomb whipray (Himantura undulata) is a species of stingray in the family Dasyatidae, found widely in the shallow coastal waters of the Indo-Pacific from India to the Malay Archipelago. This large species grows to 1.3 m (4.3 ft) across and has a diamond-shaped disc with rounded corners and a projecting, pointed snout. Its tail is long and whip-like, without fin folds. Adults have a striking dorsal color pattern consisting of large, dark brown rings and reticulations delineated by thin yellow lines, while juveniles have a pattern of large dark spots. This ray can also be distinguished from its similar relatives by an enlarged, pearl-like dermal denticle at the center of the back, which is followed by a few thorns. The International Union for Conservation of Nature (IUCN) has assessed the honeycomb whipray as Vulnerable, as it faces heavy fishing pressure and habitat degradation across much of its range.           
Gallery
Books
Community content is available under
CC-BY-SA
unless otherwise noted.