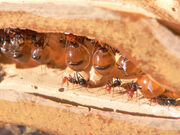 Honeypot ants, also called honey ants, are ants which have specialized workers (repletes, plerergates, or rotunds) that are gorged with food by workers to the point that their abdomens swell enormously. Other ants then extract nourishment from them. They function as living larders. Honeypot ants belong to any of several genera, including Myrmecocystus and Camponotus.
Gallery
Community content is available under
CC-BY-SA
unless otherwise noted.