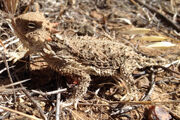 Horned lizards (genus Phrynosoma) use a wide variety of means to avoid predation. Their coloration generally serves as camouflage. When threatened, their first defense is to remain still to avoid detection. If approached too closely, they generally run in short bursts and stop abruptly to confuse the predator's visual acuity. If this fails, they puff up their bodies to cause them to appear more horned and larger, so that they are more difficult to swallow. At least eight species are also able to squirt an aimed stream of blood from the corners of the eyes for a distance of up to 5 feet (1.5 m). They do this by restricting the blood flow leaving the head, thereby increasing blood pressure and rupturing tiny vessels around the eyelids. This not only confuses predators, but also the blood tastes foul to canine and feline predators. It appears to have no effect against predatory birds. Only three closely related species are certainly known to be unable to squirt blood. To avoid being picked up by the head or neck, a horned lizard ducks or elevates its head and orients its cranial horns straight up, or back. If a predator tries to take it by the body, the lizard drives that side of its body down into the ground so the predator cannot easily get its lower jaw underneath.
Gallery
Books
Community content is available under
CC-BY-SA
unless otherwise noted.