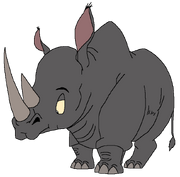 Horney is a black rhinoceros and and anti-hero in the upcoming FOX TV Series, Animal World.
Apperance
Horney is a big, chubby, dark grey Eastern black rhinoceros, with yellow eyes and a hook on his lip. He has two big black horns on top of his snout.
Personality
Horney is usally shy and blind, but sometimes he's ether sarcastic or glooom.
Trivia
When Horney is mad, he'll charge if poachers or carnivorus animals come by, like real rhinos.
Rellationships
Elephants, hippos, crocodiles, zebras, okapis, wild pigs
Roles
Gallery