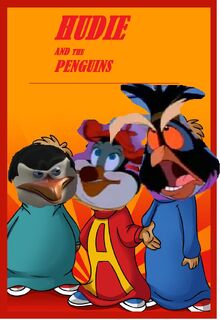 400Movies' TV spoof of Alvin and the Chipmunks (1983-1990). It will appear on YouTube in the near future.
Cast:
Alvin Seville - Hubie (The Pebble and the Penguin)
Simon Seville - Skipper (Madagascar)
Theodore Seville - Rocko (The Pebble and the Penguin)
Dave Seville - Ron Stoppable (Kim Possible)
Brittany Miller - Marina (The Pebble and the Penguin)
Jeanette Miller - Marlene (The Penguins of Madagascar)
Eleanor Miller - Eva (Penguins of Madagascar)
Uncle Harry - Drake (The Pebble and the Penguin)
Miss Grudge - Ursula (The Little Mermaid)
Eva - Bonnie
Olivia - Anastasia
Alvin Smith - Zidgel (3-2-1 Penguins)
Batmunk/Brice Wayne - Cody (Surf's Up)
Happy the Butler - ???
Dr. Simonize - Kowalski (Madagascar)
Buster Bardom - ???
Professor Fossy - ???
Kiki - ???
Nola Talent - ???
Kong - Himself
Seasons:
Movies:
See Also:
Trivia:
This is the ??? TV spoof of 400Movies.
Gallery:
Community content is available under
CC-BY-SA
unless otherwise noted.