This article's content is marked as Mature
This page contains content from media that may not be suitable for those under age of 18, which may include excessive violence or blood and gore, coarse language, and/or sexual content.


If you are 18 years old or older or are comfortable with such content, you are free to read this page, otherwise, you should view another page.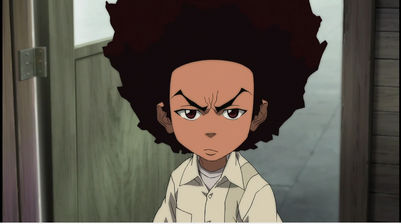 Huey Freeman is one of the main protagonists and antihero in The Boondocks.
He was a syndicated comic strip character written by Aaron McGruder, as well as the protagonist and recurrent principal narrator of the TV series with the same name. Politically sapient and borderline militant, Huey, being a self-described revolutionary left-wing radical, regularly reflects upon current events as well as the plight of African Americans as it relates to a greater American society. Huey's character has often been described as "misanthropic," and "cynical," as often presented in his pessimistic personality. Huey is also a retired "domestic terrorist".
Personality
Huey is a highly intelligent 10-year-old boy, who deadass rarely smiles or laughs, and recognizes and detests the absurdities (both obvious and perceived) of the society in which he lives.
Gallery