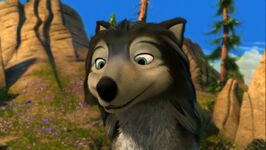 Humphrey is the main character of Alpha & Omega
He stood in as a younger Balto as Obi-Wan Kenobi in Animation Star Wars Episode I: The Furry Menace
He is a Jedi
He briefly plays the teenage Simba in the log scene during Hakuna Matata in The Wolf-Dog King
He is a lion
He is a Minion who looks similar to Phil, who Lilly also plays.
He is a funny, lovable cucumber.
He is a genie
He is a scarecrow
Humphrey plays Michelle's Father in The Naked Cage (PrinceBalto Animal Style)
He is a father
He is a gungan
He is a talking llama
Humphrey plays Adult Bambi in Stinkambi
He is a deer
He is a fraggle
He is a viking
He is a prince
Humphrey plays Manny in Forest Age
He is a mammoth
Humphrey plays Wayne Gibson in Balto and Tramp
He is Gunther's father and Jason's stepfather
He is a green creature who hates Christmas
Humphrey plays Sid in Wolf Age
He is a Sloth
He is a prince
He is a superhero
Humphrey plays Frodo Baggins in The Animal Lord Of The Rings
He is a hobbit
Humphrey plays Spongebob in Humphrey Squarepants
He is a sponge
He is an animated, talking DNA helix
Humphrey played as Bartok in Brainystasia
He is an albino bat
He is a dog
He is a genius
He is a talking dog
He is a lion
Humphrey plays John Smith in Foxhontas and Foxhontas 2: Journey to a New World
He is an Explorer
He is a fox
He is a beast
Humphrey played Dudley Puppy In T.U.F.F. Wolf
He is a dog
He is a blue monster
He is a Frankenstein's monster
He is a smilodon
He is a raccoon
He is an orange Tyrannosaurus Rex
He is a blue ranger
He is a lion
He is a zebra
He is a Teenager and Spider-Man He is a police of spd and dekared
He is a Champion of Mortal Kombat
He is a Tyrannosaurus
He is a bear
He is a dragon
He is a shark
He is a Dog
He is a Bear
He is a hyena
Humphrey plays Star in Kenaito
He is a Autobot
Gallery
Portayals
Relatives
Wife-Kate
Sons-Stinky and Runt
Daughter-Claudette
Sister in Law - Lilly
Brother in Law - Garth
Nieces - Star and Dori
Nephew - Jared
Father In Law-Winston
Mother In Law-Eve
Uncle in Law - Tony
Pack Brothers - Shakey, Salty and Mooch
Community content is available under
CC-BY-SA
unless otherwise noted.