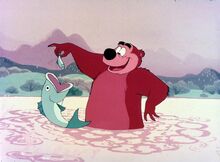 Humphrey the Bear is a cartoon character created by the Walt Disney company in 1950. He first appeared in the Goofy cartoon Hold That Pose, in which Goofy tried to take his picture. After that, he appeared in four classic Donald Duck cartoons: Grin and Bear It, Bearly Asleep, Rugged Bear, and Beezy Bear. Disney gave him his own series in 1955, but only two films resulted (Hooked Bear and In the Bag) before Disney discontinued making theatrical short subjects. When the shorts division closed, Humphrey was the last of only seven Disney characters who had been given a series of their own, starring in cartoons who opened with their own logo (the six other were Mickey Mouse, Donald Duck, Goofy, Pluto, Chip 'n Dale [counting as one], and Figaro). The Humphrey cartoons have been aptly described by Leonard Maltin as "belly-laugh" shorts, and they feature a broader, wilder style of comedy than the usually cute or coy gags typically associated with the Disney company.
Voice Actors:
James MacDonald - English
Frank Welker - English
Jim Cummings - English
He is a bear.
He is a pig.
Portrayals:
Gallery:
Community content is available under
CC-BY-SA
unless otherwise noted.