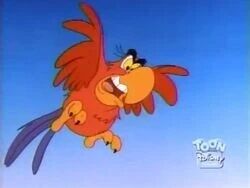 Iago is a rude, Short-tempered parrot and a former villain from "Aladdin" and Iago (voiced by Gilbert Gottfried) was once the loud-mouthed avian sidekick for the villainous Jafar in Kids World's Adventures of Aladdin.
Trivia
He will later change his ways when he meets with the Kids World's Adventures Team in Kids World in The Return of Jafar, Kids World's Adventures of Aladdin: The Series, and Kids World's Adventures of Aladdin and The King of Thieves.
Iago guest starred as Jafar's henchman in Kids World's Adventures Series.
He played Young Boba Fett in Animation Star Wars Episode II: Attack Of The Birds
He played Himself as Charlie's pet in Thumper and the Chocolate Factory
He played Waiter in The SidBob SlothPants Movie
He played Ooblar in Bart Simpson Boy Genius The Movie (TheTureDisneyKing Style)
he is a alien
He is a monster
He played Sid in Wild Age, Wild Age 2: The Meltdown, Wild Age 3: Dawn Of the Dragons, Wild Age 4: Continental Drift, and Wild Age 5: Collision Course
Portrayals:
In Devon and Cornwalladdin Iago is played by Kion
In Olladdin Iago is played by Mushu
In Shermanladdin he is played by Bill Cipher and in the sequels he is played by Mickey Mouse
Gallery
Community content is available under
CC-BY-SA
unless otherwise noted.