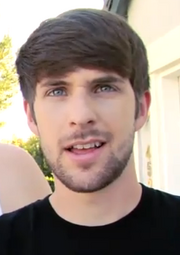 Ian Andrew Hecox, (born November 30, 1987), is an American YouTuber and actor who is one of the co-founders of the YouTube channel Smosh. He took over as the head of Smosh on June 14, 2017 after the other co-founder and creator of the original Smosh Productions, Anthony Padilla, left Smosh to be an independent content creator.
Ian, along with Anthony, can be considered one of the most widely known YouTubers due to Smosh being one of the oldest channels on YouTube, created only nine months after YouTube's debut, and one of YouTube's consistently popular channels, remaining as one of YouTube's most subscribed and viewed channels since 2006.
Movie roles:
YouTube parody roles:
Community content is available under
CC-BY-SA
unless otherwise noted.