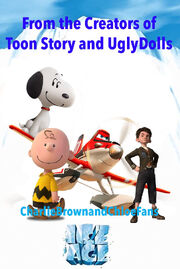 a Movie-Spoof of "Ice Age".
Cast:
Manny - Dusty Crophopper (Planes)
Sid - Charlie Brown (Peanuts)
Diego - Victor (Ballerina/Leap!)
Scrat - Snoopy (Peanuts)
Roshan - Jack-Jack Parr (The Incredibles)
Soto - Shaw (Open Season)
Zeke - Richard Carson (Capture the Flag)
Oscar - Dwayne LaFontant (Over the Hedge)
Lenny - Mr. Tweedy (Chicken Run)
Dab the Dodo - Wallace (Wallace and Gromit)
Dodo Birds - Gromit (Wallace and Gromit), Spark, Vix, Chunk (Spark: A Space Tail), Oh (Home), Mordecai, Rigby, Benson, Skips, Muscale Man, Pops, Hi-5 Ghost, Margaret, Eileen (Regular Show), Lincoln, Clyde, Lori, Leni, Lola, Lana, Lisa, Luna, Luan, Lynn Jr., Lucy, Lily, Lynn Sr. Rita Loud, Ronnie Anne, Sid Chang, Stella, Bobby, (The Loud House), Alex, Marty, Melman, Gloria, King Julien, Maurice, Mort, Skipper, Kowalski, Rico, Private, Mason, Phil (Madagascar), Cody Maverick, Chicken Joe (Surf's Up), Red, Chuck, Bomb, Hal, Bubbles, Stella, Matilda, Silver, Mighty Eagle, Terence, Jay, Jake, Jim, Zoe, Vincent, Samantha (The Angry Birds Movie), Rodney Copperbottom, Fender (Robots), Shrek, Donkey, Princess Fiona, Puss in Boots, The Big Bad Wolf, The Three Little Pigs, The Three Blind Mice, Gingy, Pinnochio (Shrek), Boog, Elliot (Open Season), Woody, Buzz Lightyear, Bo Peep, Jessie, Rex, Hamm, Slinky Dog, Bullseye, Mr. Potato Head, Mrs. Potato Head (Toy Story), Turbo, Chet, Whiplash, Smoove Move, Burn, Skidmark, White Shadow (Turbo (2013)), Pikachu, Pichu, Jigglypuff, Squirtle, Ivysaur, Charizard, Lucario, Greninja, Incineroar (Pokémon), Rango, Panda, Grizz, Ice Bear (We Bare Bears), Megamind, Minion (Megamind), Nick Wilde (Zootopia), Sulley, Mike (Monsters, Inc.), Soren, Gylife, Twilight, Digger, Ezylyrb (Legend of The Guardians: The Owls of Ga'Hoole), Lightning McQueen, Mater (Cars), Flik, Atta (A Bug's Life), Oscar, Angie, Lenny (Shark Tale), Surly, Buddy, Andie (The Nut Job), Po, Shifu, Tigress, Monkey, Crane, Mantis, Viper (Kung Fu Panda) Sci-Twi, Sunset Shimmer, Rainbow Dash, Pinkie Pie, Rarity, Applejack, Fluttershy (Equestria Girls), Mario, Luigi, Yoshi (Nintendo), Sonic, Tails, Knuckles, Amy Rose (Sega), Tim Templeton, Boss Baby, Staci, Jimbo, Triplets (The Boss Baby), Remy, Emile (Ratatouille), Junior, Tulip (Storks), B.O.B., The Missing Link, Dr. Cockroach (Monsters vs. Aliens), SpongeBob, Patrick, Squidward, Mr, Krabs (SpongeBob SquarePants), Alex, Addie McAllister (The Emoji Movie), Roddy, Rita (Flushed Away), Aladar (Dinosaue), Max, Duke, Gidget (The Secret Life of Pets), RJ, Verne, Hammy (Over the Hedge), Ratchet, Clank (Ratchet & Clank (2016)), Daffy Duck (Looney Tunes Series), Baloo, Bagheera (The Jungle Book (2016)), Simba (The Lion King (2019)), Blu, Jewel, Rafael, Nico, Pedro and Birds (Rio and The Angry Birds Movie)
Carl and Frank - Spike and Whitey (Flushed Away)
Sylvia -
Jennifer and Rachel - Mavis (Hotel Transylvania) and Audrey (The Lorax)
Runar (Roshan's Father) - Bob Parr (The Incredibles)
Nadie (Roshan's Mother) - Helen Parr (The Incredibles)
Trailer/Transcript:
Scenes:
Gallery:
See Also:
Community content is available under
CC-BY-SA
unless otherwise noted.