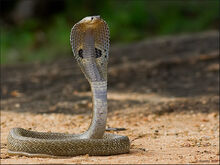 The Indian cobra (Naja naja) is mostly active during the evening and early morning. Indian cobras usually prey on mice, rats, poultry, frogs and snakes. When threatened, the Indian cobra will hiss and sway its hood to appear as large and aggressive as possible. The venom of the Indian cobra is highly toxic.
Roles
Gallery
Books
See Also
Community content is available under
CC-BY-SA
unless otherwise noted.