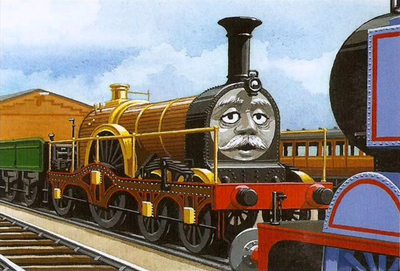 Iron Duke is a broad gauge steam engine originating from the Great Western Railway. He is part of the National Railway Museum collection.
Biography
The Railway Series
Iron Duke, the replica, was a top attraction at the National Railway Museum running on the broad-gauge demonstration line.
Thomas met him on his visit to the National Railway Museum, and was described to be a very wide engine. He told Thomas that his type of gauge, broad-gauge, was used on the Great Western Railway (1838-1892) until a century ago. Thomas resolved to tell Duck later.
Personality
Not much is known about Iron Duke's personality, though he appears to have a vast amount of knowledge on the history of the Great Western Railway and broad gauge.
Technical Details
Real-life History
The original Iron Duke, who was designed by Daniel Gooch and built by Swindon Works in 1847, could haul a large load at 60 mph (96 km/h). The original Iron Duke was displayed at the Great Exhibition in 1851, and by 1855, Gooch had produced another twenty nine locomotives in this style.
Although the real Iron Duke did not survive into preservation, a replica was built. The replica was based at the National Railway Museum at York, but has since take up permanent residence at the Didcot Railway Centre running a broad-gauge demonstration line.
Livery
Iron Dukes is painted brown with a green tender and wheels and has gold lining. He also has a big, bushy moustache and whiskery eyebrows.
Appearances
Thomas and the Great Railway Show

-

Trouble on the Line
Companion volumes
2007 -

Thomas the Tank Engine: The New Collection
Trivia
The Iron Duke is the second engine to have a moustache, the first being

Earnest

.
Iron Duke is the first and, so far, only broad gauge engine to appear. However, several characters in the television series are based on broad gauge engines, but have been scaled down to standard gauge.
Gallery
Template:The Mainland Template:National Railway Museum