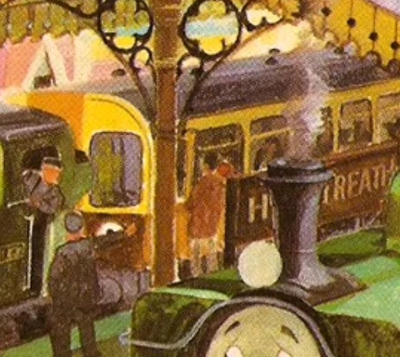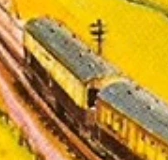 Isabel and Dulcie are Oliver's coaches. Isabel came with Oliver when they escaped from the Other Railway, and Dulcie was later rescued by Sir Topham Hatt and given to Oliver.
Bio
Isabel escaped to Sodor with Oliver and Toad to avoid being scrapped. Upon their arrival, Oliver and Isabel were assigned to run the Little Western branch line with Duck. To fill the roster, Sir Topham Hatt rescued three more auto coaches, Alice, Mirabel, and Dulcie. While Alice and Mirabel became Duck's coaches, Dulcie joined Oliver and Isabel.
Basis
Isabel and Dulcie are based on Great Western Railway auto coaches, which were used in push-pull service on branch lines. The auto coaches were efficient because it eliminated the need for the engine to run around to the other end of the train to turn around.
Livery
Isabel and Dulcie are painted in the Great Western's chocolate-brown and cream coach livery. When the former first came to Sodor, she was painted in the British Railways' maroon coach livery with yellow lining.
Appearances
Trivia
Isabel's name originates from the fact that there "is a bell" on her.
Isabel's name is misspelled "Isobel" in the ERTL range.
Merchandise
ERTL (Isabel only; maroon; discontinued)
References
Community content is available under
CC-BY-SA
unless otherwise noted.