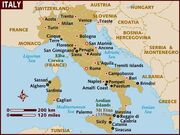 Italy (Italian: Italia), officially the Italian Republic (Italian: Repubblica Italiana), is a country in Europe. Located in the heart of the Mediterranean Sea, Italy shares open land borders with France, Switzerland, Austria, Slovenia, San Marino, and Vatican City. Italy covers an area of 301,340 km² (116,350 sq mi) and has a largely temperate seasonal and Mediterranean climate. With around 61 million inhabitants, it is the fourth-most populous EU member state and the most populous in southern Europe. The capital city of Italy is Rome, which is also a special comune and the fourth most populous city in the European Union by population within city limits. It is considered to be one of the world's most culturally and economically developed countries, with its economy ranking eighth largest in the world and third in the Eurozone. As an advanced economy, it has the sixth-largest worldwide national wealth, and is ranked third for its central bank gold reserve. Italy has a very high level of human development, and it stands among the top countries for life expectancy. The country plays a prominent role in regional and global economic, military, cultural and diplomatic affairs, and it is both a regional power and a great power. Italy is a founding and leading member of the European Union and a member of numerous international institutions, including the UN, NATO, the OECD, the OSCE, the WTO, the G7, the G20, the Union for the Mediterranean, the Council of Europe, Uniting for Consensus, the Schengen Area and many more. As a reflection of its cultural wealth, Italy is home to 54 World Heritage Sites, the most in the world, and is the fifth-most visited country.
Symbols
National/Official Symbols
Maps
Map fun fact: Italy looks like a boot, that's how you can recognize it more
Flag Maps
Natives
People who are from Italy.
Gallery