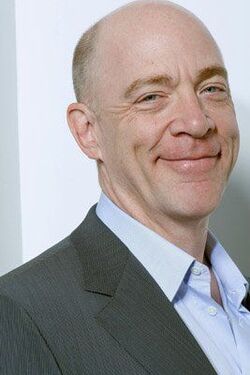 Jonathan Kimble Simmons (born January 9, 1955) is an American television, film, and voice actor. In television, he has played Dr. Emil Skoda on the NBC series Law & Order, Vernon Schillinger on the HBO series Oz, and Assistant Police Chief Will Pope on TNT's The Closer. From 2017 to 2019, he starred as Howard Silk in the Starz series Counterpart.
His film roles include J. Jonah Jameson in Sam Raimi's Spider-Man trilogy (2002–2007), and music instructor Terence Fletcher in Whiplash (2014) for which he won an Academy Award for Best Supporting Actor. He is known for voicing Cave Johnson in the video game Portal 2 (2011), Tenzin in The Legend of Korra (2012–2014), Stanford Pines in Gravity Falls (2015–2016), Kai in Kung Fu Panda 3 (2016) and Mayor Lionheart in Zootopia (2016). He reprised his role as Jameson in various Marvel media unrelated to the Sam Raimi trilogy, including multiple animated series and the Marvel Cinematic Universe film Spider-Man: Far From Home (2019). He has also appeared in a series of commercials for Farmers Insurance, and also voices the Yellow M&M.
Simmons's performance in Whiplash received widespread critical acclaim and earned him 38 accolades, including the Academy Award, Golden Globe Award, Screen Actors Guild Award, Critics' Choice Award and BAFTA Award for Best Supporting Actor.
Roles