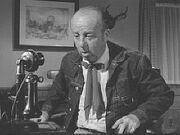 James Patrick O'Malley was a British singer and character actor, who appeared in many American films and television programs from the 1940s to 1982. He also appeared on the Broadway stage in Ten Little Indians (1944) and Dial M for Murder. O'Malley was born in Burnley, England.
Roles
Cyril Proudbottom - The Adventures of Ichabod and Mr. Toad
Tweedle Dee and Tweedle Dum/The Walrus and the Carpenter/Curious Oysters - Alice in Wonderland
Jasper/Colonel - 101 Dalmatians
Bloodhound/Hunting Horse/Master of Hounds/Pearly Drummer/Penguin Waiter/Photographer/Reporter #2 - Mary Poppins
Colonel Hathi/Buzzie - The Jungle Book
Otto - Robin Hood
Community content is available under
CC-BY-SA
unless otherwise noted.