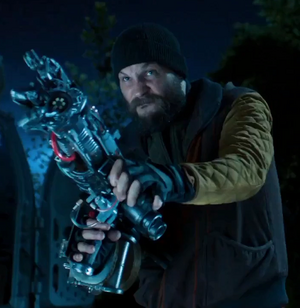 Montana (Jackson W. Brice) is a fictional character appearing in American comic books published by Marvel Comics. He appears in Spider-Man: Homecoming, portrayed by Logan Marshall-Green. He is depicted as an employee of Adrian Toomes' salvaging company along with Herman Schultz, Phineas Mason, and Randy Vale. When the company went out of business following the formation of Damage Control, he turned to crime with the rest of his co-workers. He nicknames himself the Shocker and uses a modified version of Crossbones' gauntlet that emits vibro-blasts. Brice and Schultz attempt to sell Chitauri technology to gangster Aaron Davis when Spider-Man disrupts the transaction. After fending off Spider-Man and returning to the hideout with Schultz, Toomes chastises Brice for risking their operation. Brice shrugs off the criticism and is fired by Toomes, but then threatens to expose everything to the authorities. When Toomes tries to use an anti-gravity gun to scare Brice, he unknowingly uses a Chitauri disintegration weapon instead and kills Brice when he fires it. Toomes then passes on Brice's shock glove to Schultz.
Community content is available under
CC-BY-SA
unless otherwise noted.